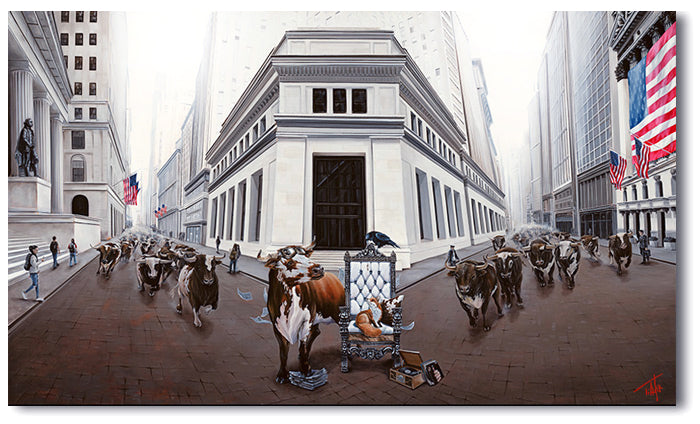 New - More Bull - Limited Edition
More Bull by Australian born artist Pete Tillack
Artist Statement about More Bull:
"Constantly fed enhanced separation of beliefs that help keep the disdain between the masses, brought on by what is mostly the 24hr partisan media sources.
Some of which are looking to benefit from creating simple interaction, while others seem to have alternative desires.
This appears to be designed to fuel the fires, like we are feuding rival sport fans, giving the notion that the other is out to destroy everything we know, when in actual fact, the majority of society's opinions fall closer to the middle."
"With age, many realize that they have heard these tunes before, as it was back in the 1960s that Malcom X stated -
"The media's the most powerful entity on earth. They have the power to make the innocent guilty and to make the guilty innocent."
"There will always be individuals that walk thru life oblivious to the Bull Shit, yet for those who are trying to search thru the barrage of information, it is still hard to not fall prey with certain things when the wording is intended to provoke our emotions in order to control our actions.
The key is to look logically, instead of emotionally at most details and how it is worded, before we attach our feelings to the outcome.
And then maybe, we can see the thru the deceit and orchestrate our own soundtrack to life,
…….rather than listening to More Bull"
- Tillack
Availability
36 x 60" original oil on canvas in artist specialty frame - SOLD
*This original has sold, however, Pete Tillack is available to complete your original commission.  Contact us for details about the commission process.

Artist Proof - Artist Enhanced Limited Edition fine art giclée on Canvas
24 x 40" - Limited Edition of 95
30 x 50" - Limited Edition of 145
36 x 60" - Limited Edition of 145
Watch Pete Tillack explain the concept behind and the symbolism in "Bull Market" in the video below: (Video Coming Soon!)
* GALLERY WRAP:  Fine art canvas giclée print comes with a mirrored image around the sides of the canvas and is stretched and ready to hang with a picture hanger attached to the 1.5" stretcher bars (depth from the wall).  Contact us for details.
* FRAMING:  Custom framed fine art canvas giclée Artist Proof comes framed in  artisan black aluminum frame.  Additional framing options are available.  Please contact us to discuss custom framing. 
* LIMITED EDITION:  Pete Tillack fine art canvas giclée prints are limited edition Artist Proofs signed, numbered and enhanced by the artist and come with a certificate of authenticity.
* QUALITY: Pete Tillack prints use the canvas giclée process, which utilizes museum-quality archival inks, canvas and supports.   Additionally, a protective coating is applied to the surface of each canvas print.
* SALES TAX: California state sales tax is applicable to California residents.  Any orders shipped outside of the state of California will not be charged California state sales tax.
* SHIPPING / ORDER FULFILLMENT:  Pete Tillack Artist Proofs are custom orders.  The art must be printed, signed, numbered, enhanced, custom framed and shipped to fulfill your order.  On average, please allow 4-8 weeks to receive tracking on your order.  We usually ship the art UPS ground or FedEx fully insured and signature required and you will be notified of tracking once the artwork has shipped.  Oversize shipments will require a oversize carrier. 
* SHIPPING PRICES: Shipping prices are dependent on the size of the artwork/frame, and the shipping address.  Please contact us to get a shipping quote.  We ship all over the US as well as internationally.
* INTERNATIONAL SHIPPING: Contact us for international shipping quotes.  We offer competitive international shipping rates.  Pete Tillack also has an exclusive International Edition that is available in metric size instead of inches making it easy to stretch and frame internationally.
---
Share this Product
---
More from this collection