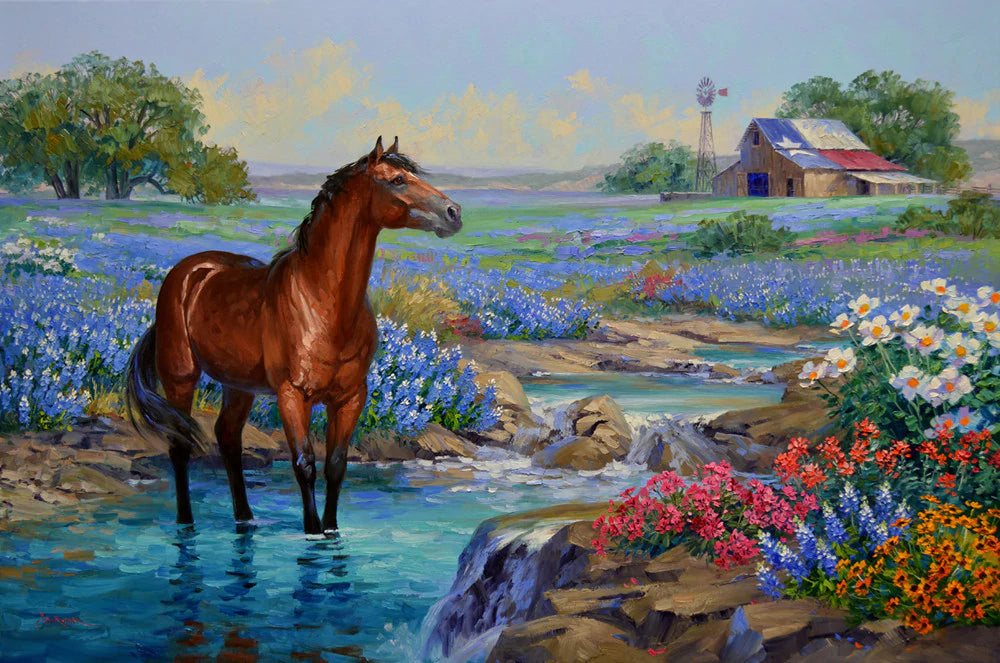 Cool, Cool Water - canvas giclée
Cool, Cool, Water giclee on canvas by Mikki Senkarik features a horse wading through a calm stream with vibrant flowers and a Texas flag barn in the background.
This limited edition canvas giclée print comes heavily embellished and textured with signature finished edges by Mikki Senkarik.  
"Limited Original", coined by Senkarik, describes her hand embellished giclée's on canvas.  They are considered originals because no two are embellished with the exact same brushstrokes.  Each edition is limited to 145 or less.
Available sizes:
24 x 30" - image size and outside dimensions with signature finished edge is 30 x 36"
30 x 36" - image size and outside dimensions with signature finished edge are 38 x 48"
Senkarik Signature Finish Edge
A Senkarik original oil painting or artist embellished canvas giclée is usually finished in her own trademark style, applied on a 2" thick contemporary canvas with a border of approximately 3 inches on all sides. Smaller paintings are a bit narrower and large paintings have a wider finish. Senkarik employs a texture called Cryla, a heavy bodied acrylic. The Cryla "frame" simulates wood grain and is very easy to care for. Should you get a smudge, simply wash with Windex and a soft cloth. 
*If you would like to purchase this painting un-stretched (rolled ready to stretch) and or without the signature frame. please contact us to order.
*This original has sold however this artist is available for commissions.  Please contact us for details on the commission process.
* LIMITED EDITION:  Mikki Senkarik canvas giclée prints are artist embellished and signed and limited to 145 or less in each edition.
* QUALITY: Senkarik prints use the canvas giclée process, which utilizes museum-quality archival inks, canvas and supports.   Senkarik embellished her limited edition canvas prints.  Additionally, a protective coating is applied to the surface of each canvas print.
* SALES TAX: California state sales tax is applicable to California residents.  Any orders shipped outside of the state of California will not be charged California state sales tax.
* SHIPPING / ORDER FULFILLMENT:  In stock art generally ships within five business days of order.  Out of stock art may take up to 3-6 weeks to receive tracking on your order.  We usually ship the art UPS ground, fully insured and signature required and you will be notified of tracking once the artwork has shipped.  We ship medium to large framed art in a wooden crate to protect the art and the frame.

* SHIPPING PRICES: Our online shipping price is estimated based on purchase price and in most instances the shipping price is accurate.  If our website overcharges shipping, we will apply a partial shipping refund to your order.  If our website undercharges shipping, we will contact you to discuss your shipping options.  For a more precise shipping quote, please contact us.
* INTERNATIONAL SHIPPING: Contact us for international shipping quotes.  We offer competitive international shipping rates.
*We know you will love it!  However, this purchase is available for Gallery exchange within 30 days of purchase.   The sale is final on all custom orders and custom framed pieces.
---
Share this Product
---
More from this collection