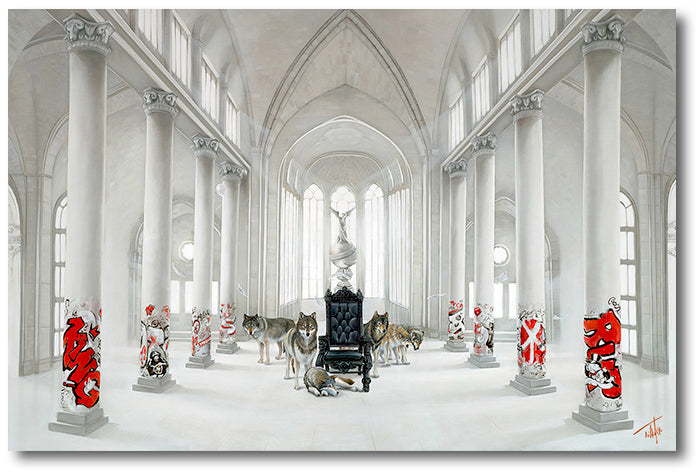 Credence - Limited Editions
Credence limited edition canvas prints by Pete Tillack
A quote about "Credence" from Pete Tillack:
"This one has only just been finished, and I am yet to finalize the exact way in which I depict my thoughts and how I wish to convey the meaning of all the symbolism.
Here is a snippet of my direction....
CREDENCE - belief in or acceptance of something as true - 'not is true but as true'.. how we word things is very particular in what we wish to convey or to guide.
There a many things we put up on pedestals (plinth) but when such unabated trust is placed on something, this can allow for greed and manipulation for other benefits, as there is so much information and ways to get it, it has been created into sides instead of facts.
This is not new, but being able to freely research at our own finger tips is causing fear panic and name calling.
We were led to believe that the lone wolf is cool, but usually he is a scavenger as the average pack size is six and they work as a team, relying on each other in order to survive.
With so much around us, it can flood our own minds and we raise our hands in surrender for what we know or trust, but it is so hard to release what we have worked so hard for that it can be difficult to see other paths, or possibilities and so we subside to blindly follow the flock with hopes that someone amongst them know what they are doing."....Tillack
This original oil has sold...However this artist is available for commissions.
Artist Enhanced limited edition canvas prints:
24 x 40" - Artist Proof - artist enhanced limited edition of 95
30 x 50" - Artist Proof - artist enhanced limited edition of 145
36 x 60" - Artist Proof - artist enhanced limited edition of 95
*Available framed or unframed. 

*Frame is an artisan made specialty frame:
24 x 40" framed - 29 x 45" in total framed dimensions
30 x 50" framed - 33 x 55" in total framed dimensions
36 x 60" framed - 41 x 65" in total framed dimensions
Canvas giclée Artist Proof comes on stretched canvas with 1.5" gallery wrapped edges ready to hang unframed.  Custom framed canvas giclée Artist Proof comes floated in artisan frame.
*This original has sold, however, Pete Tillack is available to complete your original commission.  Contact us for details about the commission process.
*Let us know how Pete Tillack could personalize this painting to tell your story.  Contact us to discuss a unique personalization.
Watch the analysis of the symbolism in this video below:


* GALLERY WRAP:  Canvas giclée print comes with a mirrored image around the sides of the canvas and is stretched and ready to hang with a picture hanger attached to the 1.5" stretcher bars (depth from the wall).  Contact us for details.
* FRAMING:  Custom framed canvas giclée Artist Proof comes floated on artisan made specialty frame.
* LIMITED EDITION:  Pete Tillack canvas giclée prints are limited edition Artist Proofs signed, numbered and enhanced by the artist and come with a certificate of authenticity.
* QUALITY: Pete Tillack prints use the canvas giclée process, which utilizes museum-quality archival inks, canvas and supports.   Additionally, a protective coating is applied to the surface of each canvas print.
* SALES TAX: California state sales tax is applicable to California residents.  Any orders shipped outside of the state of California will not be charged California state sales tax.
* SHIPPING / ORDER FULFILLMENT:  Pete Tillack Artist Proofs are custom orders.  The art must be printed, signed, numbered, enhanced, custom framed and shipped to fulfill your order.  On average, please allow 3-5 weeks to receive tracking on your order.  We usually ship the art UPS ground or FedEx, fully insured and signature required and you will be notified of tracking once the artwork has shipped.  Oversize shipments will require a oversize carrier. 
* SHIPPING PRICES: Shipping prices are dependent on the size of the artwork/frame, and the shipping address.  Please contact us to get a shipping quote.  We ship all over the US as well as internationally.
* INTERNATIONAL SHIPMENTS: We offer competitive international shipping rates.  International shipping quotes vary.  Contact us to get an international shipping rate. Pete Tillack also has an exclusive International Edition that is available in metric size instead of inches making it easy to stretch and frame internationally.  While there is no California sales tax charged on international shipments, duties may be assessed by the receivers country.  The receiver is responsible for any duties assessed on their fine art purchase.
---
Share this Product
---
More from this collection