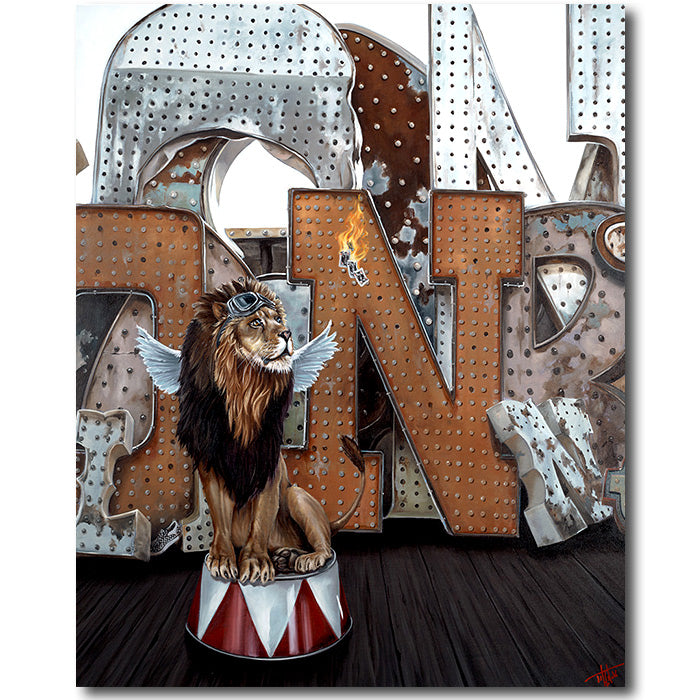 The King - Limited Editions
The King

Limited Edition Canvas Prints
Symbolism behind Painting:
"E
verything around us is vying for our attention, scrambling to be noticed with means of fear, fun or financial endeavors.
The circus of flashing ads and catchy jingles are getting increasingly sophisticated, while understanding that our attention is short, but ever so precious, you may not see the value of it but others know its significance.
To have control of our focus, means we really have to become -  'The Master of Our Own Domain'!
There will always be a majority that are waiting for a sign to move forward, but only a few comprehend the lost momentum of waiting for something, rather than searching for a way to make it happen.
The harder you work, the more opportunities will arise, but the key is to keep your eyes open and constantly question as not everybody puts in the effort to learn to fly.
I used to use the analogy of the 'Game of Chess' to symbolize the road for life, but I have come to realize it is more like a game of poker… There is always the unplanned events or the essence of luck that needs to be factored in, however, if you rely exclusively on this element, your luck will burn out at some point."
                             Tillack
Watch the video where the artist explains the symbolism in the painting at:
Availability:

50 x 40" original oil - view the original  - SOLD
*This original has sold however this artist is available for commissions.  Please contact us for details on the commission process.

Artist enhanced Artist Proof editions on canvas giclée
48 x 36"
(plus specialty frame 54 x 42")
Edition of 45

40 x 30"
(plus specialty frame 46 x 36")
Edition of 75

30 x 24"
(plus specialty frame 36 x 30")
Edition of 75

Edition total - 195
Canvas giclée Artist Proof comes on stretched canvas 1.5" gallery wrapped edges ready to hang unframed.  Custom framed canvas giclée Artist Proof comes floated on artisan weathered wood frame.  
*This original has sold, however, Pete Tillack is available to complete your original commission.  Contact us for details about the commission process.
* GALLERY WRAP:  Canvas giclée print comes with a mirrored image around the sides of the canvas and is stretched and ready to hang with a picture hanger attached to the 1.5" stretcher bars (depth from the wall).  Contact us for details.
* FRAMING:  Custom framed canvas giclée Artist Proof comes floated on artisan black faux leather frame with nail head design.  Additional framing options are available.  Please contact us to discuss custom framing. 
* LIMITED EDITION:  Pete Tillack canvas giclée prints are limited edition Artist Proofs signed, numbered and enhanced by the artist and come with a certificate of authenticity.
* QUALITY: Pete Tillack prints use the canvas giclée process, which utilizes museum-quality archival inks, canvas and supports.   Additionally, a protective coating is applied to the surface of each canvas print.
* SALES TAX: California state sales tax is applicable to California residents.  Any orders shipped outside of the state of California will not be charged California state sales tax.
* SHIPPING / ORDER FULFILLMENT:  Pete Tillack Artist Proofs are custom orders.  The art must be printed, signed, numbered, enhanced, custom framed and shipped to fulfill your order.  On average, please allow 3-5 weeks to receive tracking on your order.  We usually ship the art UPS ground or FedEx, fully insured and signature required and you will be notified of tracking once the artwork has shipped.  Oversize shipments will require a oversize carrier. 
* SHIPPING PRICES: Shipping prices are dependent on the size of the artwork/frame, and the shipping address.  Please contact us to get a shipping quote.  We ship all over the US as well as internationally.
* INTERNATIONAL SHIPPING: Contact us for international shipping quotes.  We offer competitive international shipping rates.  Pete Tillack also has an exclusive International Edition that is available in metric size instead of inches making it easy to stretch and frame internationally.
---
Share this Product
---
More from this collection