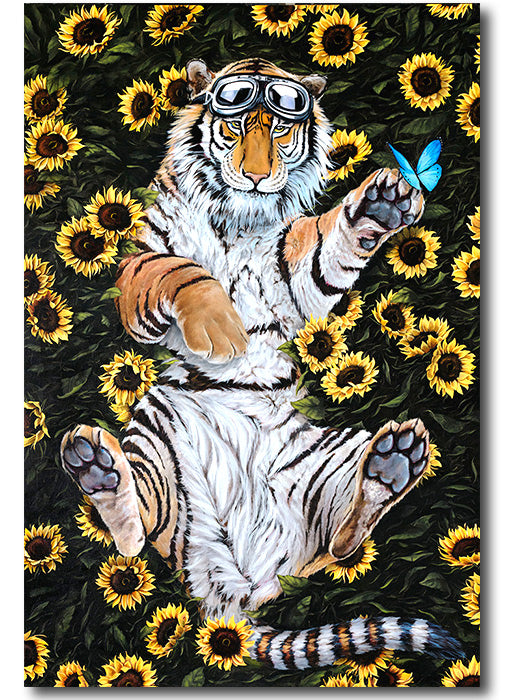 NEW! Monsters - Limited Editions
Monsters

Limited Edition Canvas Prints
Symbolism behind Painting:
Monsters… the things that scare us...
There are many times moving into a new situation causes hesitancy thru fear.
Comfort is a hard thing to progress from, as we feel it gives us a security even if it does not satisfy all needs.
Yet for some there is an adventure for more, a desire for change that causes them to leave what they know, even though it could result in a more vulnerable state.
There is no growth without challenges, and it is hard to move forward when you're surrounded by those not willing to acknowledge their true potential, or willing to sacrifice for better.
This may make the journey a little isolated at times, although this allows the gravitation towards those of similar mindsets as you progress, opening possibilities of showing even larger perspectives than originally imagined.
So when you reflect, if you had acted upon the fears of the first steps, you may never have learnt to fly, so now you embrace that familiar feeling of trepidation, and understanding the greater gifts it can provide are not just in physical form, but can come in self-worth which is hard value to be taken away                   Tillack
Watch the video where the artist explains the symbolism in the painting at:
COMING SOON
 Availability:

54 x 36" original oil - view the original 

Artist enhanced Artist Proof editions on canvas
60 x 36"
(plus specialty frame 65 x 41")
Edition size 45
50 x 30"
(plus specialty frame 55 x 35")
Edition size 145
30 x 18" 
(plus specialty frame 32 x 20")
Edition size 175

Edition total - 365
Canvas giclée Artist Proof comes on stretched canvas 1.5" gallery wrapped edges ready to hang unframed.  Custom framed canvas giclée Artist Proof comes floated on artisan made heavy duty black aluminum frame.  
*Pete Tillack is also available to commission
* GALLERY WRAP:  Canvas giclée print comes with a mirrored image around the sides of the canvas and is stretched and ready to hang with a picture hanger attached to the 1.5" stretcher bars (depth from the wall).  Contact us for details.
* FRAMING:  Custom framed canvas giclée Artist Proof comes floated on artisan artisan made heavy duty black aluminum frame.  Additional framing options are available.  Please contact us to discuss custom framing. 
* LIMITED EDITION:  Pete Tillack canvas giclée prints are limited edition Artist Proofs signed, numbered and enhanced by the artist and come with a certificate of authenticity.
* QUALITY: Pete Tillack prints use the canvas giclée process, which utilizes museum-quality archival inks, canvas and supports.   Additionally, a protective coating is applied to the surface of each canvas print.
* SALES TAX: California state sales tax is applicable to California residents.  Any orders shipped outside of the state of California will not be charged California state sales tax.
* SHIPPING / ORDER FULFILLMENT:  Pete Tillack Artist Proofs are custom orders.  The art must be printed, signed, numbered, enhanced, custom framed and shipped to fulfill your order.  On average, please allow 3-5 weeks to receive tracking on your order.  We usually ship the art UPS ground or FedEx, fully insured and signature required and you will be notified of tracking once the artwork has shipped.  Oversize shipments will require a oversize carrier service. 
* SHIPPING PRICES: Shipping prices are dependent on the size of the artwork/frame, and the shipping address.  Please contact us to get a shipping quote.  We ship all over the US as well as internationally.
* INTERNATIONAL SHIPPING: Contact us for international shipping quotes.  We offer competitive international shipping rates.  Pete Tillack also has an exclusive International Edition that is available in metric size instead of inches making it easy to stretch and frame internationally.
---
Share this Product
---
More from this collection